Saltydog - Successful trend investing
Free Trial
First off, the Saltydog system is based upon investing in funds, not purchasing individual company shares.
It is a proven set of algorithms and methodology that crunches the vast amounts of UK fund data and presents it in a way that allows private investors to take advantage of trend investing. Enjoy rising trends, avoid the big downturns and potentially out-perform the FTSE.
It's based on a monthly subscription model that provides access to our Saltydog Members App and printed information on over 20k UK funds and allows you to find which funds and sectors are on the up and which are retracting. You make the trades yourself outside of Saltydog and always keep in control of your investments.
Each week, we update all the Saltydog data. These numbers and charts – all presented in a very clear, user-friendly format - show the best-performing funds in each sector. You pick out the trends which look most promising and adjust your portfolio accordingly.
And don't worry, you're not on your own! Every week we also provide you (by email) with an in-depth commentary on the markets and review the trends which we think look most interesting. So you can use our ideas and guidance to help you make a decision.
Not only that, we also have a Saltydog demonstration portfolio which we update each week, to show the Saltydog principles at work. This means you get to see how we, as experienced users of the system, apply our trend investing rules and interpret all the data.
In addition, you will also receive a monthly newsletter with an option to receive it printed and sent through the post. This gives further guidance and reviews the market and sector trends.
As you've seen from the comments by Saltydog members, using our trend investing system really isn't hard. It's easy. And it's satisfying and enjoyable.
This is what the weekly schedule looks like:
Every Wednesday we release the latest update of the Saltydog data on our app and website. The tables and charts show all the best-performing sectors of the market, and the best-performing funds within those sectors.
You can log on to the Saltydog app or website and review all the new data and charts yourself.
Later on Wednesday morning – usually between 11.00 – 11.30am – our Managing Director, Richard Webb, sends you an email giving you our overview of the market situation and how things have changed over the past week.
On Wednesday evening – between 6.00–7.30pm – Richard sends you a further email which describes any changes (buys or sells) we are making to our demonstration portfolios, along with an in-depth explanation of the reasons why. If you wish, you can simply follow the changes that we make, and – if you have an online broker account – you can place your buy and sell orders right away, ready to be executed the following day.
Free Trial
The Saltydog app: clear, colourful and easy to read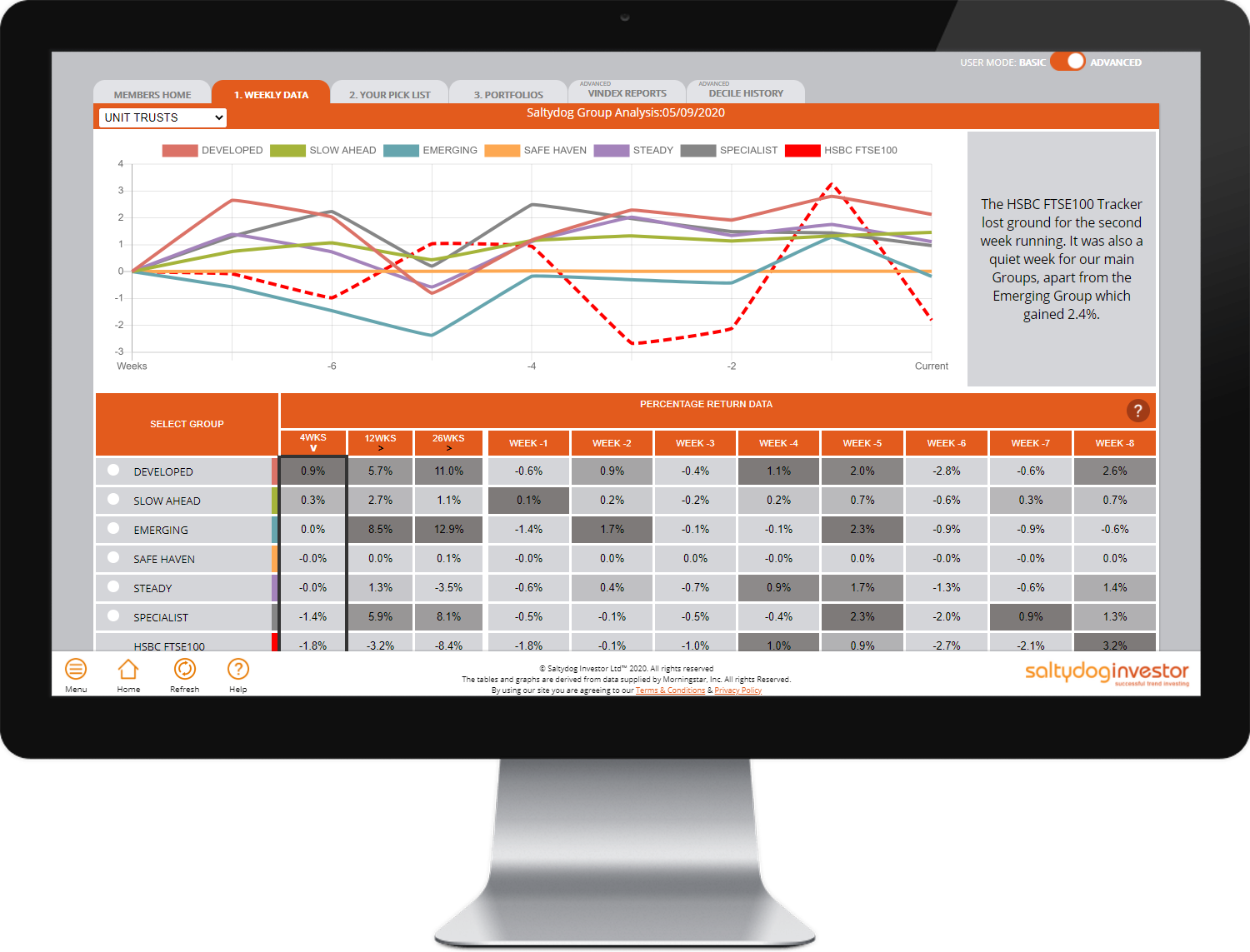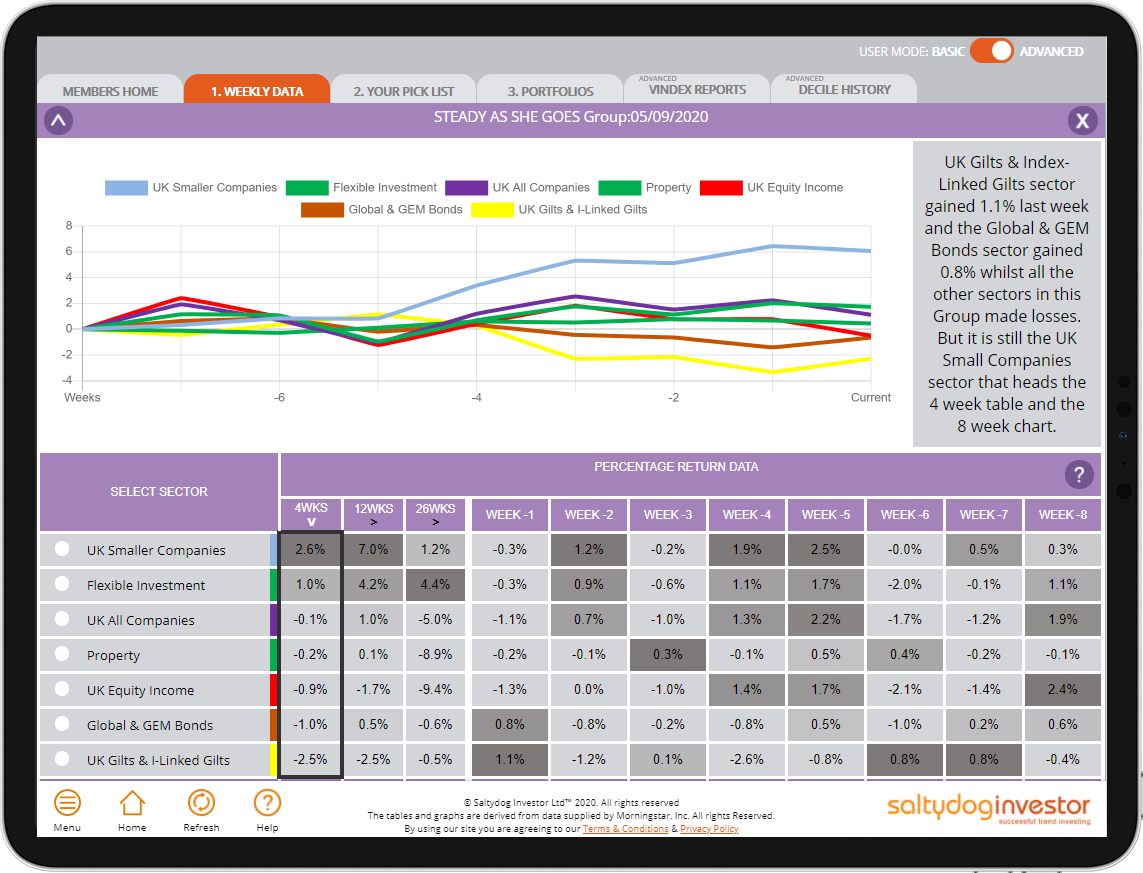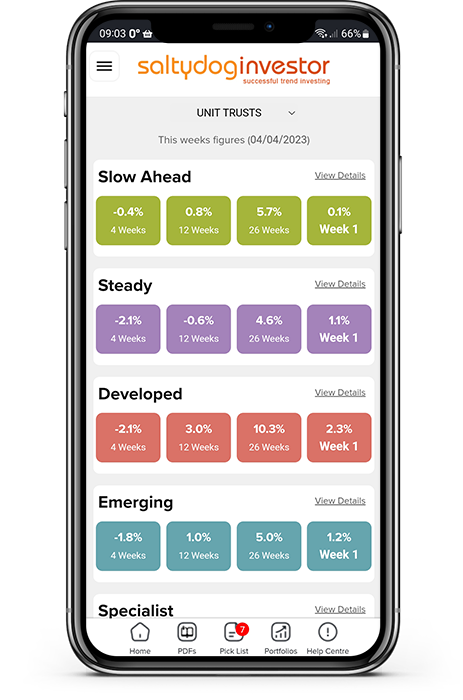 Free Trial